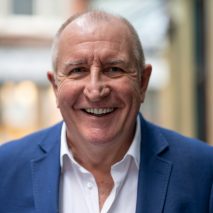 Meet Chris Merrington
Chris is one of the UK's leading speakers, consultants and trainers working with clients in the areas of Negotiation, Increasing Commerciality, Consultative Selling for Trusted Advisers, New Business Prospecting and Pitching to Win.
Chris has a natural style of training which is interactive and encourages participants to find the solutions themselves. His techniques allow participants to learn fast, take action and apply the learnings straight away. He helps build his clients' confidence to change their behaviours to be more effective and successful.
Chris is a Fellow of the Professional Speakers Association and a member of The Marketing Society, the Chartered Institute of Personnel Development and the Institute of Sales and Marketing Management.
"What you learn today, you can apply tomorrow"
After a highly successful and award-winning career in Direct Marketing and Marketing Communication agencies at director level, selling to senior clients in major blue chip companies and government departments, Chris founded Spring 80:20 in 2001.
Chris firmly believes that within each individual and each business is the potential for much greater achievements. The challenge is releasing that potential.